Advanced Pavement Marking is a guest speaker for a striping seminar at the 2018 National Pavement Expo in Cleveland, Ohio. Our seminar was focused on assisting parking lot striping contractors who are seeking to expand their services into municipality, airport and racetrack markets.
The National Pavement Expo brings together vendors and contractors who make a living or have associations with asphalt, concrete, paving, striping, sealcoating and pavement maintenance trades. The pavement expo has been running for approximately 30 years visiting various cities all across the country. In 2017 APM was asked to host a seminar related to the striping trade. Advanced Pavement Markings managing member; Don Sokolow conceived a seminar course that was not only related to the parking lot striping trade, but also one that reflected his businesses expansion and growth into new market's: (municipalities, airports, racetracks).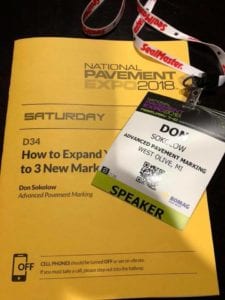 How to Expand Your Striping into 3 New Markets. This striping seminar was created by APM to provide some insight and first hand knowledge to parking lot stripers who are looking for either adding new services or moving into a whole new market. Moving into pavement marking services for municipalities, airports or racetracks is not the quickest or easiest of businesses to enter.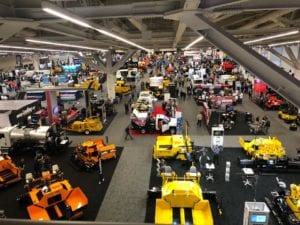 A brief look into our "history": In 2008 APM's managing member Don Sokolow was working in the landscape architecture trade designing and coordinating intricate projects at the international level. While working on a project overseas Don's father unfortunately passed away the slumping world economy turns into "The Great Recession". These life changing events prompted the entrepreneurial drive in Don to dramatically change his business career and focus on staying closer to his wife and two children. Seeking a new career change meant seeking a business not that provides stability in even the worst of economic slumps, while also having work flexibility and more available family time.
PAVEMENT MARKING is the selected business direction for Don. This new venture requires team work and dedication, long time friend Jeff Swendrowski joins in on taking this business idea into a successful working model. 2009 Advanced Pavement Marking rolls out as a true business: State of Michigan registered LLC, Fully insured including Workman's Comp coverage. Both Jeff and Don's detail oriented backgrounds proves to be valuable to the APM concept and places a new level of quality and standards into the pavement marking, line striping trade. This quickly excels APM from a parking lot striping business to a now national full service pavement marking company. Servicing all types of projects including: Airports, Municipalities, Racetracks, Warehouses, Factories, Parking Lots, Military Projects, Sports Courts and more. Our growth and success has caught the attention from various industry insiders and even trade related magazines. Articles have been written about our projects along with spot lights on our various business achievements. Our name is recognized in the industry all across the country. This leads to our USPTO approval for a registered trademark! Our business is a protected brand!
In 2017 industry magazine Pavement Maintenance and Reconstruction Magazine approached us for a possible seminar addition to the National Pavement Expo. Managing Member Don Sokolow is asked to develop a Striping Seminar that could be a useful building block for other striping contractors wanting to move in our same direction. Having the honor to speak and assist with others in the line striping trade, Don worked on a topic that has yet been used at any of the National Pavement Expo's. APM's striping seminar topic "How to Expand Your Striping into 3 New Markets" (municipalities, airports, racetracks) was developed to give inside knowledge and experience to those wanting to enter this specialty trade. Our many years of true project experiences and first hand knowledge went to work hopefully assisting those wanting to add something to there business.
Our development and execution for the striping seminar went was very well received and potentially Advanced Pavement Marking team members Don Sokolow and Jeff Swendrowski will be a continued seminar addition's to future National Pavement Expo shows!
Airports, Roads, Racetracks and more Advanced Pavement Marking® has painted them all! Proudly putting our passion and pride on the line for your safety, since 2009!