Join us in Cleveland, Ohio at the National Pavement Expo 2018. This year APM is a conference guest speaker for striping services. Our seminar: "How to expand your striping into 3 new markets", will give you insight on how we service municipalities, airports and racetracks at the national level.
The National Pavement Expo is a venue where asphalt, striping, sealcoating, crack filling, sweeping, concrete and pavement repair professionals and suppliers from all over the United States gather. Both industry professionals and vendors are able to network, learn industry trends, problem solve, sharpen or improve skills, learn about new materials, equipment along with valuable classroom opportunities for further education and industry knowledge.
In 2018 the National Pavement Expo will run for 5 days and feature over 55 different conference sessions! Both industry new comers and seasoned professionals will find many opportunities that are very beneficial to success.
---
Advanced Pavement Marking® was asked by Pavement Maintenance and Reconstruction Magazine to become a guest seminar speaker, covering a topic related to striping. We are honored by the request, happy to share our experiences and help educate others in the striping industry on "How to expand their striping into 3 new markets". Our seminar will explain how we went from being a Michigan based parking lot striping company to a specialized pavement marking company servicing municipalities, airports and racetracks at the National level. Seminar attendee's will learn some of the behind the scenes requirements for: business, labor, equipment, materials and more needed for expanding into this new market. Seminar speaker is Advanced Pavement Markings, Owner Don Sokolow.
---
Our history: In 2008 an idea and concept was created, focusing on providing high quality pavement marking – striping services. This concept was researched and analyzed from top to bottom to ensure there was a market need. Rather quickly it was identified that the line striping industry lacked professionals who were focused on quality!
Far to many companies in the parking lot striping trade provide substandard work! We found the need for high quality services and developed a plan.
We knew we were onto something and this prompted founding members Don Sokolow and Jeff Swendrowski to dive into this new venture. Both Jeff and Don have extensive backgrounds in: design, construction and engineering fields not only on the national scale but also at the international level! Our experiences in high level "detail" oriented projects proves to be a valuable asset and foundation structure in making our company standout from others. No cutting corners or compromise in quality or customer service helped guide the creation and search of our business name.
We didn't want to use a name that is over used, market statured or easily lost. Choosing a professional business name must reflect the companies philosophy, make a statement and be easily identified. Those requirements lead to establishing our business name: ADVANCED PAVEMENT MARKING. Searching the name availability was important to us and we scoured the United States Corporations and Entity searches, this resulted in having a business name not only available but also free of anyone else using it!!! 2009 Advanced Pavement Marking name is registered with the State of Michigan corporation division as a LLC.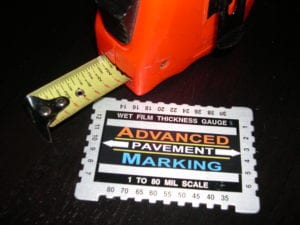 Our business begins! Jumping into the parking lot striping, line painting trade Advanced Pavement Marking quickly climbs to the top!! Becoming well known for high quality, detail oriented and a commitment to customer service that is unmatched. Different pavement marking market opportunities begin to be requested for our services. Soon we find ourselves working on airports, roads and even indoor painting services for warehouses and factories. In 2010 both founding members Jeff and Don attend there first National Pavement Expo down in Nashville, TN and attend all the striping related classes that are available. Soon after attending the National Pavement Expo, Advanced Pavement Marking is featured in industry magazine articles! Our work is now seen and read about on the national level! This exposure opens up our established brand name to substandard companies/individuals who try and "copy cat" our company name, text and even steal our project pictures! This results in protecting our rights and brand. Working with the specialized patent and trademark attorney's at Lowry Blixseth LLP we pursue brand protection by registering with the USPTO. In 2014 we clear the USPTO and become a registered trademark! Since the establishment of our business our focus was to be the best at what we do, while it was not the easiest of journey's our relentless commitment and dedication made our success.

From parking lot striping, road painting, safety marking and even racetrack painting across the country our company proves hard work pays off!
We want you to succeed with your parking lot striping or line painting business. Join us at the National Pavement Expo and attend our seminar. Who knows, maybe our experience's will help guide and grow your business? We hope to see you in Cleveland, Ohio.