Since 2009 we have proudly put our passion and pride on the line in all types of pavement marking projects ranging from airports, race tracks, roads, warehouses, factories, parking lots, sports courts and more. Our projects have spread from Michigan to servicing the entire nation! While we are not the largest striping company we are one of the most specialized, and sought after nationally for our experience and craftsmanship. Few pavement marking or parking lot striping companies have the extensive project portfolio we have built.
Our crews can be seen painting race tracks all over the county including the famed and historic Road Atlanta track in Braselton, GA and even up into New Hampshire painting the exclusive Club Motorsports race track.
APM also services all types of airport and helicopter markings including military projects like Alpena Combat Readiness Center in Alpena, Michigan. We also service smaller airports both private, regional and medical centers. Some of our out of state airport marking projects include Fulton County Airport located in Wauseon, Ohio.
Our traffic marking crews operate from Indiana all the way to Michigan's Upper Peninsula painting cities such as City of Marquette
Our pavement marking crews also service indoor projects throughout the United States. Striping, line painting, line marking etc. we do it all.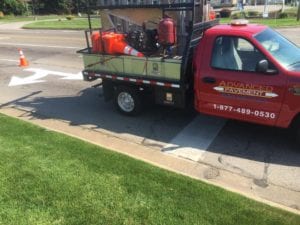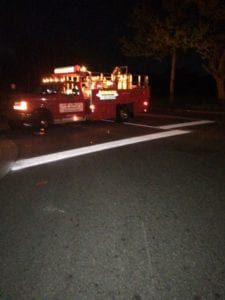 Put our experience into your project and you will see the difference! From the simplest parking lot striping job to ultra complex airport work we are the experienced professionals you can rely on. Our pavement marking crews have the professional experience, equipment and materials your project deserves. More than just color, curb appeal and stripes our services keeps you informed and safe. Don't compromise your safety by hiring the "lowest priced" or "inexperienced" contractor. APM has established a reputation in the industry and nation as one of the best! Learn more about all of our services and wide range of projects by visiting all of our website pages: advancedpavementmarking.com
One of our most recent projects had our crews returning to the Road Atlanta racetrack to paint track just ahead of the world famous Petit Le Mans endurance race. Our crew was quickly dispatched from Michigan down to Georgia. 2017 marked the 20th Anniversary of this famed race. It took our crew 2 solid days to repaint entire track with multiple colors.
#IMSA #RoadAtlanta #racing #Porsche #Ferrari #Corvette #BMW