Leading striping contractor servicing parking lot painting and line striping projects across the USA. View our extensive pavement marking project photos.  We are a difference you can see with the quality and durability you can trust!
Our passion and pride is put on the line for your safety!
Don't hire a striping contractor based only on cheapest price. Do a real comparison and select the professional with the experience, quality, durability and other professional trade requirements: License, Insurance, Workman's Comp., Bondable, Reference/Background checks etc.  When comparison's are made APM stands out as the leading striping contractor who is trusted by: Airports, Cities, Counties, US Military and all types of businesses across the country.  Take time and view our extensive pavement marking portfolio, while we may not always offer the "cheapest price", we are confident we are the best value and investment choice for your money.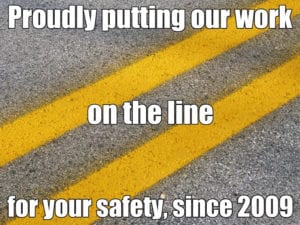 Did you know we have a wide range of project experience and price scale levels?
From residential projects of $1,000.00 to municipality projects of $1,000,000.00+ and more we have the experience and capabilities to professionally service your project.
Did you know we offer services both nationally and internationally?
We service all types of pavement marking projects all over the United States and Canada! Our racetrack division works coast to coast painting various auto, motorcycle, bicycle and running tracks for professional and private clients.  Examples of our racetrack projects: includes the Famous Road Atlanta track located in Braselton, GA and America's oldest operating velodrome located in Kenosha, WI.                 Our services also extends into Canada!  Advanced Pavement Marking has serviced Canadian Tire Motorsports Park just ahead of The Canadian Sportscar Grand Prix.
Did you know we are contracted by other pavement marking, parking lot striping and asphalt companies?
At times other competing companies contract our services to assist in getting a project completed or meeting certain project requirements.  These relationships ensure projects receive the service and attention to detail they deserve, our developed relationships is key to everyone's success.  Most parking lot painting companies contract our services for large scale projects or "specialty" projects that require qualified contractors or inspections, which they may not be properly experienced or equipped to handle.  Some of the projects we have been hired to assist with includes:
Airport projects
Shopping centers
Malls
Municipalities
Large parking structures
Entertainment – Amusement parks
Racetracks
Helicopter pads
Schools
Sports Courts
Apartment complexes
When the project matters, make sure you have the right professional hired to do the job!