2008 our pavement marking history begins. Starting out as a Michigan based parking lot striping company and rapidly expanding into pavement marking services for airport, municipality, racetrack and indoor projects nationally.
It began with an idea and is fueled by a strong passion for success.
Before Advanced Pavement Marking, founder Don Sokolow worked internationally in the landscape architectural design and construction field. With extensive experience and knowledge in design, engineering, heavy equipment operations and project management, Don's expertise and attention to detail will prove to be a valuable asset and key foundation in advancing his business beyond the competition.
While working overseas in 2008 Don's father unfortunately passed away, the slumping world economy turns into "The Great Recession". These life changing events fueled the entrepreneurial drive in Don to dramatically alter his business career and focus on staying closer to his wife and two children.
A new career path meant seeking a business that could provide stability in even the worst of economic slumps and would be high demand along with offering flexibility for more family time.
---
Working on international projects is a great way to develop valuable new skillsets, expand knowledge, experience cultural diversity.
---
PAVEMENT MARKING is the selected business direction for Don.
Public safety, general organization, visual aids and guides on: roads, airports and parking lots, line marking services is a necessity in our fast paced modern lives. Entering into this new venture required building a team with like minded and hardworking individuals.
Advanced Pavement Marking rolled out as a functioning business in 2009: State of Michigan registered LLC, Fully insured including Workman's Comp coverage. With an emphasis on being detail and customer satisfaction we deliver a new level of quality and professional standards to the pavement marking and line striping trade.
APM rapidly expanded from a parking lot striping business into a international full service striping company. Servicing all types of projects ranging from: Airports, Municipalities, Racetracks, Warehouses, Factories, Parking Lots, Military Projects, Sports Courts and more.
---
---
Our growth and success has caught the attention from investment groups, industry firms and even trade related magazines. Articles have been written about our projects along with spot lights on some of our achievements.
The Advanced Pavement Marking name is recognized in the industry all around the world! This lead us to pursuing a USPTO registered trademark! APM has been analyzed, approved and awarded "registered trademark" rights and protections.
Our continued operations over the course of being granted a registered trademark has surpassed the 5 year renewal mark, allowing Section 15 Declaration filing and APPROVAL.
Section 15 Declaration approval recognizes the trademark as "incontestable" by law.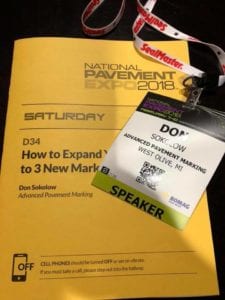 Advanced Pavement Markings expansion and growth has had countless inquiries from parking lot striping companies, line markers and others in the asphalt services industry asking:
How did you do it?
How can my business, grow like yours?
Can my business partner with yours?
Does your business offer franchise or license opportunity?
Our achievements and success did not come easy! With plenty of setbacks and failures comes valuable experience and knowledge. In 2016 The National Pavement Expo and Pavement Maintenance and Reconstruction Magazine approached APM's owner Don Sokolow about becoming a seminar speaker for the 2017 National Pavement Expo in Cleveland, Ohio. Don's seminar "How to expand your striping business into 3 new markets" provides insight and first hand knowledge to eager parking lot striping companies looking to take their business into a similar direction and success as the Advanced Pavement Marking model has. The seminar was such a hit that Don Sokolow is asked to be a guest speaker for the 2019 National Pavement Expo in Nashville, Tennessee.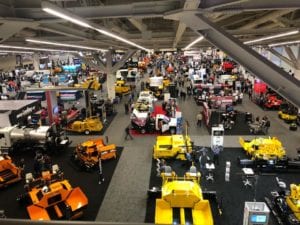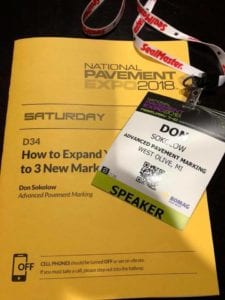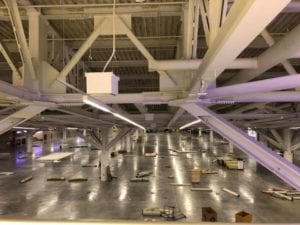 ---
Pavement markings is more than just color and curb appeal!
Advanced Pavement Marking® was established with a strong foundation and philosophy of being "the best of the best", no corners cut or sub-standard practices allowed! We quickly learned the parking lot striping trade was more of a "free for all, wild west" industry that lacks professionals committed to quality, accountability and customer service.
Line striping companies that are willing to cut corners or perform sub-standard work, choose quick money over people's safety.
APM spends countless hours researching, documenting and learning all aspects of the pavement industry. Our primary focus is on the road striping, racetrack painting, safety marking trade. We strive to be the best in this field! Our pavement marking history is constantly being archived on each and every project we service.
Our commitment is to YOU, your family, your neighbor's, your community and beyond! Our service is for everyone's SAFETY! We do not compromise, neither should you.

When the pavement markings matter, contact us 1-877-489-0530.