Servicing airports, municipalities, racetracks and more throughout the United States. Learn more about all of our services and view our extensive pavement markings pictures. From parking lot striping, road painting to racetrack and indoor markings we do them all.
The dedicated team at APM possess the experience, know-how and state of the art equipment necessary to service your project no matter what your needs are. With strong leadership and a forward-thinking management team we place an emphasis on teamwork and believe that the cultivation of a solid relationship with the customer is vital to the achievement of our goals. Our clients recognize this commitment to excellence as we strive to become the most honest and ethical trade partner of choice.
Our outstanding reputation is based upon our ability to handle unique project challenges and to propose alternate solutions in order to meet your requirements. We focus on adding value to the bottom line of every project and rely on our experience, competitive pricing structure and industry resources to help us develop the most cost effective solution.
We are fully insured including workman's comp., members of various organizations, servicing projects of all sizes throughout the United States.  Staffed and equipped to rapidly mobilize to almost any size project in the mid-west. When the marks "matter" call ADVANCED PAVEMENT MARKING!  Since 2009 we have serviced: airports, cities, counties, race tracks and more.  Building a professional level project portfolio that we are very proud to display.  Our pavement markings pictures are from projects spanning the entire USA.
Airport Markings
Advanced Pavement Marking installs and services all airport markings meeting FAA standards and inspections. Runway numbers, runway center lines, T-hangars, taxi lines, threshold markings , runway hold markings, runway edge lines, Helicopter pads, compass rose. Advanced Pavement Marking has experience with local airport markings to Military base markings you can count on our crew to get the job done right!
Crosswalks & Stop Bars
We install and service crosswalks and stop bars! Crews paint miles and miles of them every year for Cities, Municipalities, Counties, private and commercial business's etc.! From standard crossings, School zones, pedestrian bars to bike lanes and more! Our service is truly for your safety.
Road Markings
Advanced Pavement Marking is experienced in road markings meeting DOT standards and inspections. From proper paint thickness to reflective media size and application rates the professionals at APM will install your road markings to the highest level of standards.
Traffic Markings
Traffic markings play a crucial role with safety in our daily lives. Traffic markings assist with maintaining organized traffic flow, driver awareness with various messages and other on road markings and symbols, important safety zones etc…
Traffic markings are relied upon around the clock in all types of weather changes. Traffic markings must be visible day or night. Advanced Pavement Marking has the equipment and experience to install or maintain all of your traffic marking needs. Our high level of standards will ensure consistent, reliable markings that can be seen and relied upon around the clock. Traffic markings include: Arrows, ONLY, Rail Road symbols and markings, YIELD, Roundabout markings, Bike lane symbols and messages, Pedestrian symbols and crossings, Stop bars, Lane messages etc.
Airport Marking
Helicopter pads and runway hold line installed by Advanced Pavement Marking. Not just any striping or marking company can service or install airport markings.  Servicing all types of projects our pavement markings pictures span many different pages of our website.
These specialty marking projects require special equipment, materials, experience, insurance etc.. Companies must be able to meet strict FAA requirements and possible on sight inspections and field tests. Call the pro's at Advanced Pavement Marking for your next airport marking project we have what it takes to service all your airport marking needs.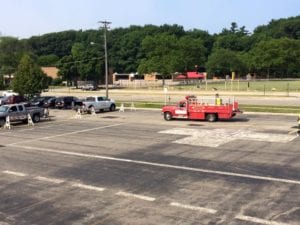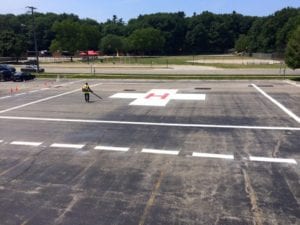 Parking Lot Striping
Why maintain or be concerned about your parking lot's appearance and condition? Potential LOST SALES! When a visitor becomes stressed or irritated by a negative experience they just encountered in your parking lot, they may be inclined to end their visit prematurely or in some situations the level of concern is enough to skip the visit entirely.
Items that can turn away customers: Faded or missing markings, No ADA parking or it's not properly spaced for someone to exit there vehicle, Pot holes, Poor traffic flow. Some businesses are willing to spend more on their lawn and landscape maintenance then addressing parking lot and road care. While Flowers and a green lawn look's nice, door dings and fender benders don't. The professionals at Advanced Pavement Marking will ensure your business's parking lot and roads projects are comforting and have a inviting feeling to visitors.  For more pavement markings pictures view our other website pages and learn about all of our services and projects.
Factory Marking
Contract the professionals at Advanced Pavement Marking to service or install durable factory markings that can be counted on around the clock.
When it comes to active factory floors selecting the right marking material is actually second on the list. First is the approach and techniques in prepping the surface to ensure coatings will have maximum adhesion to withstand a harsh environment. From etching to shot blasting our crews will analyze your factory floors surface and select the necessary steps and products for creating durable factory markings.
Warehouse Marking
This warehouse project was a new layout consisting of Approx. 1500+ bins to be marked along with installing individual bin numbers.
Active warehouses require various techniques in prepping the surface to ensure coatings will have maximum adhesion to withstand these active environments. From etching to shot blasting our crews will analyze your warehouses' surface and select the necessary steps for creating durable long lasting markings.  Our collection of pavement markings pictures also includes indoor projects.
Advanced Pavement Marking has the experience and capability to apply all types of coatings, paints, epoxy, stains. Our crews will work on tight to flexible schedules to ensure minimal disruption and congestion to your facility.
Safety Marking
Safety markings assist with visual awareness and for some business's are OSHA requirements.
Our crew will work with facility managers & Safety directors to select the best product(s) and approach that best fits the project needs and deadlines. Advanced Pavement Marking has installed and serviced all types of safety markings including: Hand rails, step caps, fork lift zones, pedestrian markings, buffer zones, eye wash zones, hazard markings, IPM zones.
Sports Court Marking
The crew at Advanced Pavement Marking will take your sports court into the professional league.
Our crews take accurate measurements and ensure the markings are meeting regulation standards. Tennis courts, Basketball courts, Pickle Ball, Hockey and Inline markings, Hop scotch, Four square courts are among some of our many sports court markings we have installed.  We have several different pavement markings pictures and projects on display throughout our website.  We hope you take time to view them all
School Crosswalks
Advanced Pavement Marking installs and services all types of School crosswalk markings. From 6″ Side bars to 12″ even Crosswalk blocks we have the materials and equipment to service all your crosswalk marking needs including injecting retro-reflective media into paints for increased visibility.
Higher Standards
Something that sets APM ahead of its competition: Our high level of standards and quality control!
Every truck, trailer and yes even machine carries a paint mil gauge, WHY? Applying the proper amount of paint increases longevity while avoiding potential risks in safety and surface damage associated with over application. From projects that require ultra thin mil paint applications to ones that need single pass thick mil coatings and retro-reflective media count on us to do the job right.
Our crews are accustom to random quality control inspections either from FAA, Municipal and County DOT inspectors to Internal QCI checks. One look at our crews & machines will show not only a high level of professionalism but also establish trust in our ability.
Cities, Counties, Airports, Factories, Business's, and public safety all rely on the markings, Advanced Pavement Marking and its professional crews install. Your project deserves the best markings possible call Advanced Pavement Marking!  Since 2009 Advanced Pavement Marking has serviced: airports, cities, counties, race tracks and more.  View all of our website pages learning more about our professional services and extensive collection of pavement markings pictures we have built over the years.