The best parking lot striping contractor servicing all of Michigan, Ohio, Indiana and more. Advanced Pavement Marking putting its work on the line since 2009. From small parking lot striping projects to pavement marking an entire city or county Advanced Pavement Marking® does them all. Put our professional experience, equipment and materials into your project, Advanced Pavement Marking is a difference you can see with the quality and durability you can trust. See why cities, counties, race tracks, airports, parking lots and more throughout the USA choose our professional services.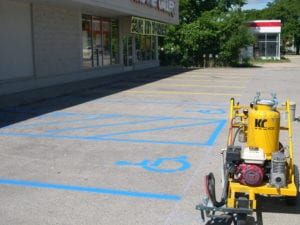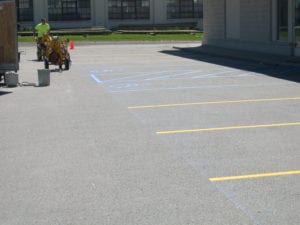 It takes more than just paint and a parking lot striping machine to be considered the best parking lot striping contractor. At Advanced Pavement Marking offer many things that very few companies in the parking lot striping trade can match.
Our projects all start with professional crews and we have some of the absolute best! Did you know ALL of our crews PASS strict background checks (including ones for government/military projects) Our crews are thoroughly trained in traffic control, material handling, site layout, blue print reading, ADA, MUTCD, DOT regulations and more.
Advanced Pavement Marking is equipped with the best pavement marking and parking lot striping equipment. From airless stripers to conventional highway & airport pavement marking rigs we have them all. Kelly-Creswell, Titan, JCL, MRL, MB, Graco, John Deere, Binks etc. We heavily invest into our equipment! Our decisions for pavement marking/parking lot striping machines are based on PROVEN performance & production output, never based on cheapest price. Our policy is if it can produce quality, reliability and production it is worth the investment.
Our material is "the best of the best"! While other parking lot striping contractors use low grade "off the shelf" materials, Advanced Pavement Marking uses only the high quality materials DOT, FAA and other engineering approved standards. These materials are all special order items ONLY available to pavement marking contractors who purchase them in large volume! Our projects look better and they tend to last longer!
Advanced Pavement Marking is fully insured including work comp. coverage, state registered, federally trademarked! When the question is asked "who is the best parking lot striping contractor?" put Advanced Pavement Marking to the test!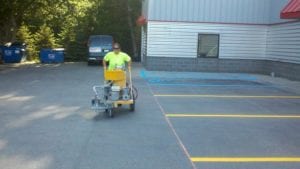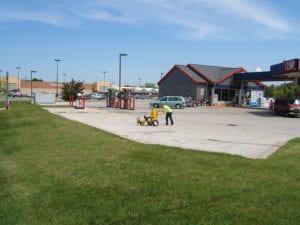 Did you know Advanced Pavement Marking® not only services parking lot striping projects but also:
Airports
Race tracks
Roads
Warehouses
Factories
Schools
Sports Courts
And more!
Since 2009 Advanced Pavement Marking craftsmen and women have been putting their passion and pride on the line for your safety. We hope in your search of "the best parking lot striping contractor" we are at the top of pack!