Our road painting crews service all types of street and traffic markings for cities, counties and other municipalities throughout Michigan, Ohio, Indiana. Put our experience, equipment and materials to work in your project!

APM road painting crews have the necessary training and experience in traffic control procedures along with MUTCD, MDOT, ODOT, INDOT regulation's. Our crews work with local & state traffic engineers, DPW director's, field inspectors etc. to ensure a smooth project experience.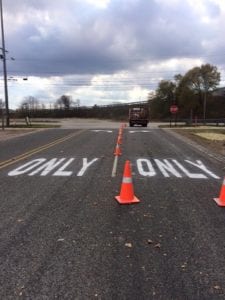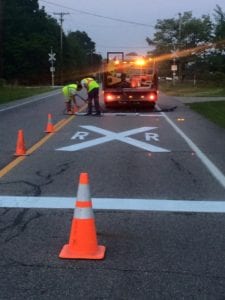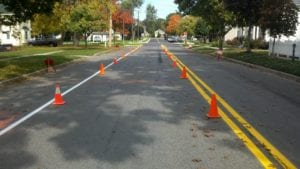 We service all types of street, traffic and road markings including:
Center lines
Edge lines
Roundabouts
Turn Lanes
Arrows
Traffic Symbols
Traffic Messages
Bike Lanes
Pedestrian Zones
School Zones
Traffic Islands
Lane Delineator's
Chevrons
Rail Road Markings
And more
Our experienced road painting crews service and install all markings to DOT standards and inspections. APM is equipped with the best in industry application equipment & pavement marking materials. From servicing a few township traffic symbols to an entire city and county filled with various symbols and markings we are the professionals you can count on.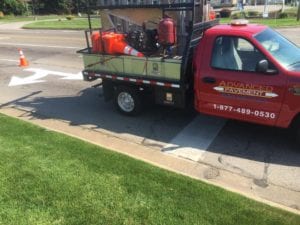 From pavement marking services on Michigan roads, airport marking in Ohio or traffic markings in Indiana we are the road painting professionals your project deserves. APM crews are passionate craftsman and women who take real pride in all of there work along with a deep understanding of the importance road/traffic/airport markings are to safety and visual awareness. APM uses the finest in pavement marking materials from "qualified" suppliers including: Sherwin Williams, Ennis-Flint, Swarco, Potters and more. Whether its Michigan pavement markings or a helicopter pad in Indiana, no project is to big or small. We are a difference you can see with the quality and durability you can trust!
Compare us to the competition and see the APM difference!