Advanced Pavement Marking not only paints race tracks, but we also race on them! We participate in bicycle endurance racing, running events, auto & motorcycle races all across the United States.
It's one thing to work on a race track it's another to actually participate in some form of racing.
We are proud of our business accomplishments and our hard working crew members who APM a success. We are also very proud of our active crew members who do great things away from pavement marking duties. Our team members are involved with everything from coaching school wrestling programs, running 5K, 10K, Half Marathons, Full Marathons, Endurance Bike Races (12hrs. -24Hrs.), Motorcycle, boat and auto racing events!
When it comes to racing most people know it requires a high level of skill, dedication, sacrifices and some added luck that never hurts. When it comes to endurance racing some of the same ingredients apply, but there is other elements required to go beyond a few laps, miles or hours in a race. Mental, physical demands, commitments & dedication along with a strong inner strength is required for endurance racing . It is easy to describe what it's like to win or finish a endurance race….It's not easy to describe what it takes to get there let alone what it took to actually make it to the finish line.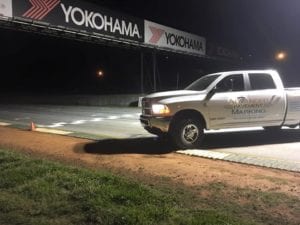 Operating a pavement marking company like ours is that it shares a lot of the similarities and requirements of a endurance racing team. With almost all of our marking and parking lot striping projects, comes a set project completion time frame that has to be to met. For some projects they are easily met. Take for example a typical parking lot striping project might take place soon after a business closes for the night. Crews have to start and complete project before business opens the next day (easy enough). Things get more difficult when it is a City, Municipality or County project. With 1000's of traffic markings, miles and miles of crosswalks, stop bars and roads that need to be painted, at times having only 30 days from start to completion. This becomes an endurance race for crews and machines!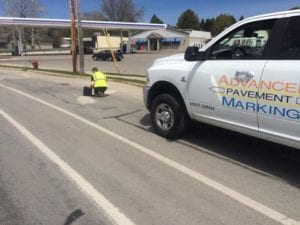 Crews begin large scale projects with site checks. We take the time to ensure work zone areas, potential issues, traffic patterns, sensitive areas/zones are identified.
At times when APM crews work on city,county or other municipality projects it requires our multiple crews to be broken down into "specialty" divisions. A city filled with arrows – ONLY's, Railroad markings, Crosswalks, Stop bars, School Zones, Roundabouts can seem overwhelming. With the right plan of attack, crew's are broken down into: Rail Road Marking – School zone crew. Arrow – ONLY & traffic message marking crew, Crosswalk – Stop Bar crew. Almost all of our large scale projects requires crews to be broken into shifts. This allows the most effective crews to be placed when traffic patterns allow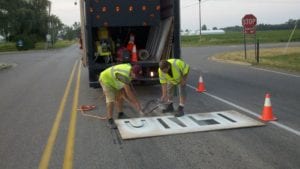 Daytime crews are most efficient servicing single lanes of roads (turn lanes) Crews install arrows and other traffic marking messages with as little disruption to traffic flow as possible and a reduced risk of causing accidents by keeping work confined in one lane.
Evening crews are most efficient working in areas of cities/counties where daytime business/factories/schools are closed for the night. Railroad markings and school zones can be serviced with reduced impact on traffic flow and with less traffic exposure issues for crews.
Night shift crews are most efficient servicing crosswalks and stop bars due to having work cross multiple lanes in all directions, painting crosswalks and stop bars can create traffic snags and issues working during the daytime and evening rush hour traffic.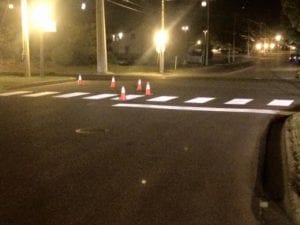 With crews broken down servicing various markings we are able to reduce impact on traffic flow, experience less accident risks and increased pavement marking cure times.
Then there is those projects that require all work to be performed during "NON-PEAK" or traditional business hours, meaning majority of work must be done at night. This is where the Advanced Pavement Marking "endurance race" encounters something most people don't even know or consider for pavement marking at night. A new set of issues that cannot be controlled: Weather; Humidity, Dew Point, Temperature Fluctuation, Wind, Rain. This makes working on night projects sometimes seem nearly impossible to gain positive ground due to fluctuating weather patterns we cannot control.
Next issue in night time pavement marking is BREAK DOWNS… With working in the middle of the night crews must be equipped and prepared for the possibility of equipment breakdowns. Most stores, auto supply, service centers are closed at night. When a breakdown happens during the day, it is typically a minor inconvenience. When a "simple" fix/break down happens at night, it can become a very big deal and problem.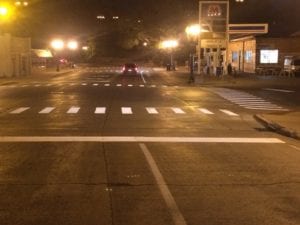 Drunk drivers or distracted drivers this is one of our biggest issues/risks with nighttime pavement marking. Our crews take precautionary steps in being seen and visible. Crews use various traffic control devices (cones, barrels, flashes) in an effort in to make our work zones and crew members seen.
---
In the endurance race of large scale pavement marking projects. Our crews are all trained and experienced on how best to handle what sometimes seems like the impossible. Crews take time to efficiently route work orders, spend the time on vehicle and equipment maintenance. Take notes and photographs of work/issues/questionable areas. Keep there sleep patterns, nutrition and hydration levels in check. A tired crew member can create a unsafe work situation. Crew members who do not keep there food-water intake in-check can become weak, tired and unable to maintain certain production standards.
Our investment into "PROVEN" heavy duty equipment gives our technicians less downtime, headaches and breakdown issues that other machines are plagued with. Our machines are selected and built to meet the tough demands and environments we put them under. Motors,pumps, compressors etc. will sometimes operate days on end around the clock with zero rest! Only heavy duty – "proven" and well kept equipment can handle this high stress environment. No standard parking lot striping machines for our traffic marking crews! When it comes to pavement marking and endurance racing, crews and equipment must be all "top notch".
APM materials are selected for there performance, durability and at times project specific requirements. The right material can make all the difference when it comes to the weather hurdles. We have ultra fast dry paints, on-board heater tanks, moisture stable paints, solvent paints are but a few of our professional materials we utilize. Our crews enjoy more production and less issues with our selected paints and beads. Our clients benefit by having better looking and longer lasting work.
---
Keeping our projects on track and moving forward can only be possible by great crews who have the same desire for success and accomplishment the Advanced Pavement Marking® brand was founded on. Professional equipment and materials that can perform and be relied upon in all types of environments and weather extremes. A support network next to none (paint suppliers, equipment manufacturers etc.) Just like a extreme endurance race, it takes an unbelievable amount of talent, effort, support and yes even really good luck to accomplish large scale pavement marking projects. We have become so good at this that other parking lot striping and pavement marking companies will contract our services to assist them with a difficult or large scale project (cities, malls, shopping centers, airports).
Where can you see some of the Advanced Pavement Marking members endurance racing?
Sebring Florida: February 11-12 Bike Sebring 12/24hr race
Traverse City, MI: May 27 Bayshore Marathon
Caledonia, MI: June 17-18 National 24hr. Challenge
Detroit, MI: October 13-15 Detroit Marathon
These are just a few places our active team members can be seen participating at.