We are the experienced International racetrack painting contractors your project deserves. Our racetrack marking services is well known in the United States and now our specialized racetrack painting services has expanding to the international stage that includes Canada and more.
Recently APM was contracted by Canadian Tire Motorsports Park for specialty racetrack marking services, installation of FIA & FIM approved "circuit paint" also known as traction or non-skid paint. We were given a very tight window for dispatch, installation and racetrack marking's "in-service" timeframes. In less than a week our crews would have to have passports, international insurance, customs clearance etc. in order to make this project happen! Moving into the category of international racetrack painting contractors requires a whole new level of preparation, paperwork and even equipment certification to meet incoming and outgoing customs requirements.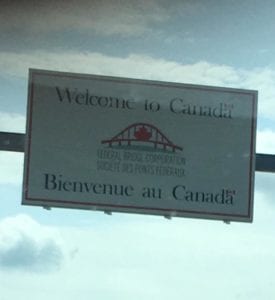 Once our crews cleared all the necessary paperwork and inspections our team traveled east past Toronto to Bowmanville, Ontario. This is home to the beautiful Canadian Tire Motorsports racetrack.
Rich in racing history CTMP was originally known as Mosport Park. In 1967 this raceway hosted the first Formula One Canadian Grand Prix. With 10 turns and a length of almost 2.5miles along with elevation changes the Canadian Tire Motorsports Park is a technical course with several similarities in overall appearance's to a European circuit.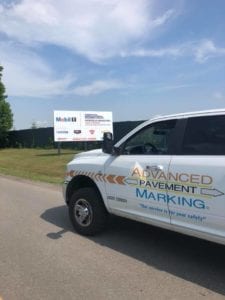 APM was contracted to install various racetrack markings to pre-selected locations. Our crews would apply the FIA & FIM approved 09NS Circuit Paint just ahead of the Canadian Sportscar Grand Prix. Locations for our international racetrack painting contractors to service would include turn #2 (installing: green island runoff) and painting track curbs (red) starting at turn #1 running all the way to turn #6.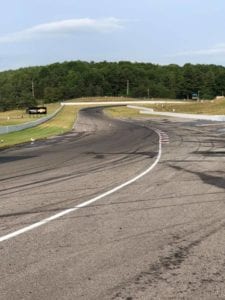 From the moment our crews arrived to the racetrack the clock was ticking (we were given a short window by Canadian customs to work) then 1 hour from arriving to the racetrack a massive thunderstorm strikes! APM crews take a much needed rest/recharge from the 8+hr. drive by catching a bite to eat. Within a few hours the thunderstorm moves on and track quickly dries. Our team goes to work installing the green island followed by painting red sections of curbing at the Canadian Tire Motorsports Park.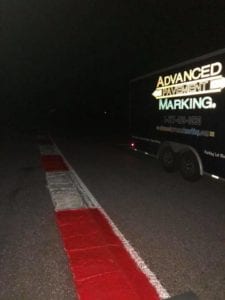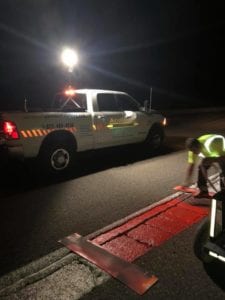 Our crew worked into the night to ensure this project was completed before track operations and races resumed the next day. IMSA racing series events were moving into raceway and the kick off to the Canadian Sportscar Grand Prix was ready to kick off! This gave our crews not only a very tight window but also the motivation to stay focused and do what it takes to ensure track is ready for slated events. There was several hurdles and obstacle's our crews faced and happy to report our mission was accomplished. Typically a international project would require anywhere from 3-6weeks for approval/work clearance then crews would be dispatched to location. In our situation we were dealing with 1 week and a request to make it happen. Fortunately we are experienced with working far from our home office and our crew members have past experiences working on international projects. With backgrounds that clear strict government checks and paperwork inline our crews became International Racetrack Painting Contractors, bringing new clients and experiences to our rapidly expanding business.