Pittsburgh International Race Complex contracted our race track marking services in spring of 2017. Our crews installed new race track markings to: curbs, edge lines, start-finish line. Pittsburgh International Race track is approx. 2.8 miles in length. APM installed 09NS "Circuit Paint" to all painted surfaces on this track.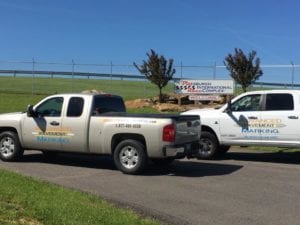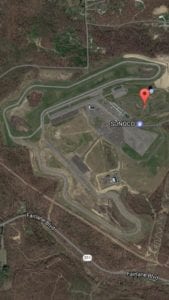 Our race track painting team quickly went to work servicing all track areas slated for painting services. Crews took 2 days to complete this sizeable project.
09NS Circuit Paint is a specialized traction/friction paint approved by both FIA & FIM racing organizations. This coating/paint becomes an added safety feature for race tracks. Traditional traffic paint is a well known slip & spin out hazard on race tracks, due to its smooth surface. Circuit paint is infused with a grit-aggregate material that gives the paint a rough texture & added traction. In wet weather 09NS really stands out as a key safety feature. The traction additive allows added traction & grip to tires both (auto & motorcycle) racers no longer have to fear or avoid the race tracks painted lines. Pittsburgh International Race Complex has received extensive track expansion and refurbishment with this newly renovated course the track was lacking the crucial pavement markings. Pittsburgh International Race Complex is also a MotoAmerica superbike series stop, this makes having 09NS markings even more necessary.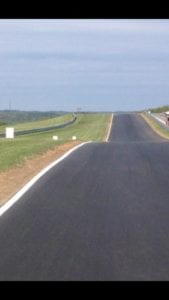 Our race track painting crews service the following areas with 09NS
Starting line
Starting grids
Edge lines
Curbs
Apex lines
Run offs
Pit lanes
Pit boxes
Finish line
Timing lines
Safety markings
Team markings
Sponsorship markings
Emergency lanes
Helicopter markings
Road markings
Traffic Markings
And more
Installing the specialized 09NS coating requires professional experience, equipment and the approved material for a long lasting installation. APM has the proper experience, equipment, materials necessary to service your race track. Our crews service tracks all across the United States. From servicing the historic Road Atlanta track in Braselton, GA to painting America's newest track Club Motorsports in Tamworth, NH we are the race track painting contractors who have the experience, equipment and materials your facility needs!
Give your track added safety, curb appeal and vibrant color it needs & give your racing participants the safety/traction to go for the win.