Our racetrack painting services includes: Start, finish lines, starting grids, curbs, track branding, barrier walls, pit lanes, emergency markings and more. APM crews are experienced in applying a wide range of coatings and specialty paints including the FIA & FIM approved "circuit paint". We are one of very few USA based companies experienced and equipped to professionally service race track markings. Our past projects includes: MotoAmerica superbike series circuits, Road Atlanta, New Jersey Motorsports Park, Pittsburgh International Race Complex, Club Motorsports, Kenosha Velodrome are some of the race tracks our crews have painted. A recent article in Pavement Maintenance and Reconstruction Magazine showcases our expansion into this specialized trade
We are more than just color, curb appeal and stripes! From painting airports, roads, race tracks and even indoor safety markings. Our services keep people safe, informed in a wide range of projects indoors and out!
When it comes to racetrack painting services select the contractor who has the experience, equipment and material's to do the job right, APM has what your race track facility needs! Are you looking for track branding or added safety features of installing 09NS to your painted race track markings? Is your racetrack in need of more sponsorship exposure? Does your race track lack aesthetic appeal? We have what your race track needs, put our racetrack painting services into your project. You will see the Advanced Pavement Marking difference and have the added safety and curb appeal your race facility deserves!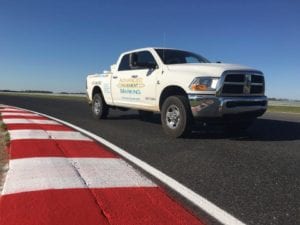 Let us "MARK" your racetrack "GREAT" again!
Racetrack painting services:
Curbs
Starting grids
Starting lines
Finish lines
Apex markings
Edge lines
Starting grids
Pit lanes
Safety lanes
Barrier painting
Helicopter markings
Timing lines
Track logos
Sponsorship logos
Run off painting
Safety areas
Road markings
Parking lot striping
And more