Road Atlanta racetrack contracts Advanced Pavement Marking for specialized course painting services. Our crews installed 09NS Circuit Paint for the MotoAmerica 2018 season opener. This traction paint provides crucial grip in all weather conditions and is approved by both FIA and FIM racing sanctions.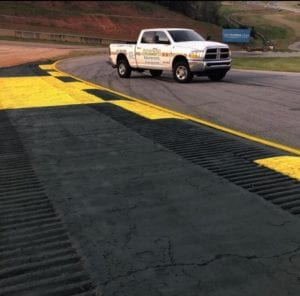 Our racetrack painting services covers all of the USA and Canada. We offer and apply various coatings including 09NS Circuit Paint, Anti-Skid, Friction Paints and other high traction/grip coatings. These materials not only increases track safety but also driver confidence in all weather conditions.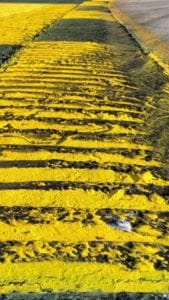 Race courses serviced with standard traffic paint exposes their racing participants to unsafe and dangerous wheel slip, tire spin hazards. Painting any lines, curbs, run offs, grids, timing lines, finish lines or other on track markings with traditional paint is extremely hazardous. Standard paints fill all natural surface: textures, voids and gaps leaving behind a smooth slippery texture. This coating is a very dangerous slip, spin hazard and becomes amplified in damp-wet weather conditions.
Tracks serviced and maintained with traditional paints open themselves up to litigation/safety issues in the event a tragic accident occurs and it is deemed "issue was avoidable" (slippery paint was applied, instead of a anti-skid). Racing is a very dangerous sport in general, but when tracks choose to cut corners by applying standard "slippery" paints they not only increase the dangers to their racing participant's, but also open themselves up to liability insurance claim issues!
---
Road Atlanta Racetrack:
The historic Road Atlanta racetrack is located in Braselton, Georgia. Course features 12 turns covering 2.54 miles and dates back to 1969! Famous events and series have been ran on this historic course including Can-Am, Formula 500, Camel GT, Petit Le Mans and more.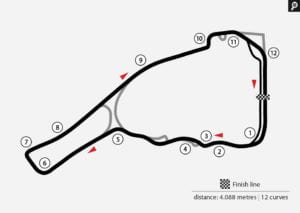 Since 2016 Advanced Pavement Marking® has been servicing the Road Atlanta racetrack markings for famous events and series including MotoAmerica, IMSA, etc. Our crews are install various coatings for these famous events. From FIA & FIM approved traction paints to highly reflective/traction coatings for endurance races like the famed Petit Le Mans. Road Atlanta is committed to keeping their track not only looking it's absolute best, but also providing an additional layer of safety to their course, by maintaining pavement markings with traction paints. We are proud to be the contractor of choice for such a historic racetrack.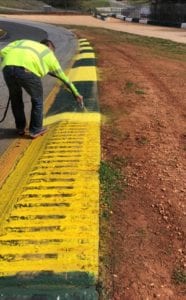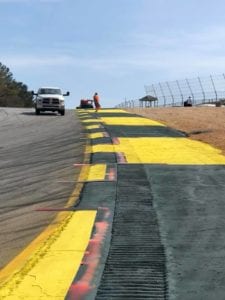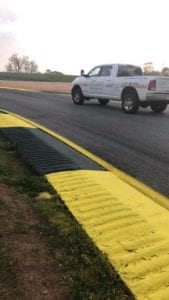 Our racetrack marking crews were rapidly dispatched to the Georgia track, arriving just ahead of the MotoAmerica race teams. APM crew went to work painting entire 2.54 mile course with 09NS "circuit paint". This non-skid coating became a absolute must have during the 3 day series event, as rain fell during the races. Riders had confidence, not fear when coming into tire contact crossing over track markings. When weather conditions became wet the added traction-aggregate gave tires a non-skid surface to grab and grip. Traditional traffic paint would have caused extremely dangerous wheel spin and slip not only in the rain but also even in dry conditions.
All racetracks need to stop installing/maintaining their courses with outdated and dangerous standard paint! Almost all European courses have traction based coatings giving there participants the added safety feature they deserve.
---
Does your race course have the added safety features of: Anti-skid, Friction, Traction, Non-slip or 09NS pavement markings?
Did you know, applying these coatings requires: specialized equipment and should be done only by experienced/trained professionals?
Did you know Advanced Pavement Marking® is one of the ONLY, USA based pavement marking companies who has the experience, equipment and full support of traction coating paint manufacture to professionally service race courses properly.
Let us put more than just "color and curb appeal" onto your race course. Our professional team proudly puts their passion and pride on the line for your safety.