Let our crews service and install all of your velodrome painting needs. Servicing Indoor – outdoor race track painting services for concrete, asphalt, wood and more. Installing velodrome markings requires a high level of skill, professional materials and equipment for a long lasting project. APM was contracted by City of Kenosha, Wisconsin to install new velodrome markings on the Washington Park Velodrome track.
Kenosha, Wisconsin's; Washington Park Velodrome is the oldest operating bicycle track in the United States, opening operations in 1927.
APM installed all new velodrome markings to the high banked concrete track. This project was very unique and interesting for our crews.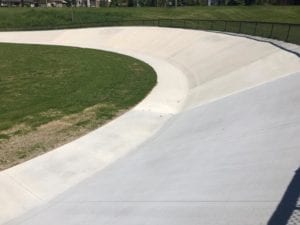 The Kenosha Velodrome is all concrete with a heavily brushed/textured surface, this gives the narrow bicycle tires added grip, but also makes a tricky surface for paint installation. Our crews analyzed the surface along with gathering information on exactly how a velodrome is used. With our analysis it was determined a epoxy primer would be required for strong top coat bond and to fill all voids gaps in textured surface eliminating: snow flaking, paint bleed, color runs. APM track painting crew went to work measuring out and installing edge line tape to contain work area and minimize overspray. Velodrome painting is not for the inexperienced or poorly equipped. Several tools and installation steps must be done in order to achieve professional results.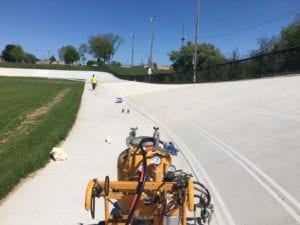 Keeping lines clean and crisp on a textured/brushed surface takes proper planning, materials and experience to do it right. Advanced Pavement Marking® has the experience, equipment and materials to do any pavement marking job right! Our crews use a tape machine to install edge line tapes. The steep banked curves found on this type of track was a very difficult obstacle our crew had to over come. Steep banked velodrome painting is difficult even for a professional.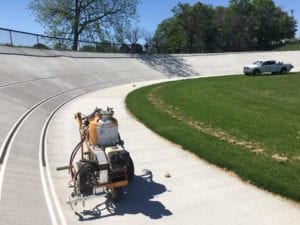 Installing a 2 part epoxy primer was an important part in achieving a professional final appearance giving a durable and long lasting bond for top coating.
Due to the textured surface and narrow bicycle tires racing high speed on this track it was decided traditional paint or traffic paint would not be suitable for this application. Standard paints and traffic paint fills voids and gaps creating a slippery surface. To prevent any slip hazards 09NS "circuit paint" was selected for it's ability to become an added safety feature and traction enhancement. 09NS is a specialty paint infused with grit/traction material. This specialty paint dries leaving a texture similar to sand paper which is crucial for preventing slip hazards & spin outs on race tracks. APM applies this coating to auto, motorcycle, bicycle, running tracks all over the United States.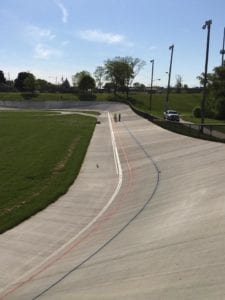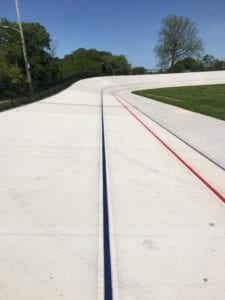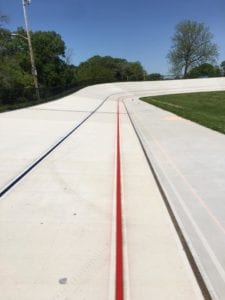 At 333 meters in circumference the Kenosha Velodrome has straightaways of approx. 350 feet in length. Another challenge for our crews was to ensure straight lines, which is difficult due to the various transitions to and from the tracks steep corner banks. Fortunately APM team members have worked on interesting projects and have a wide assortment of custom layout/installation tools. Our crew did a fantastic job at keeping lines straight, smooth and crisp!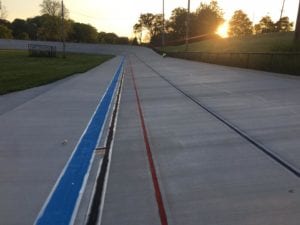 This velodrome project consisted of various colors: Yellow, Dark Blue, Light Blue, Black, Red, White.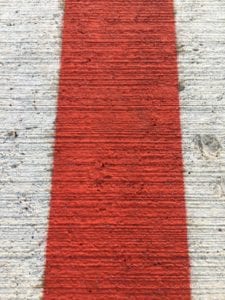 Clean, crisp lines that's Advanced Pavement Marking®!
Our race track crews did another awesome job! Learn more about our velodrome painting project:
http://www.kenoshavelodrome.com/
https://en.wikipedia.org/wiki/Washington_Park_Velodrome
https://www.facebook.com/WashingtonParkVelodrome
https://en.wikipedia.org/wiki/Velodrome