We are the warehouse marking professionals servicing factories, shipping centers, stores and other storage facilities across the USA.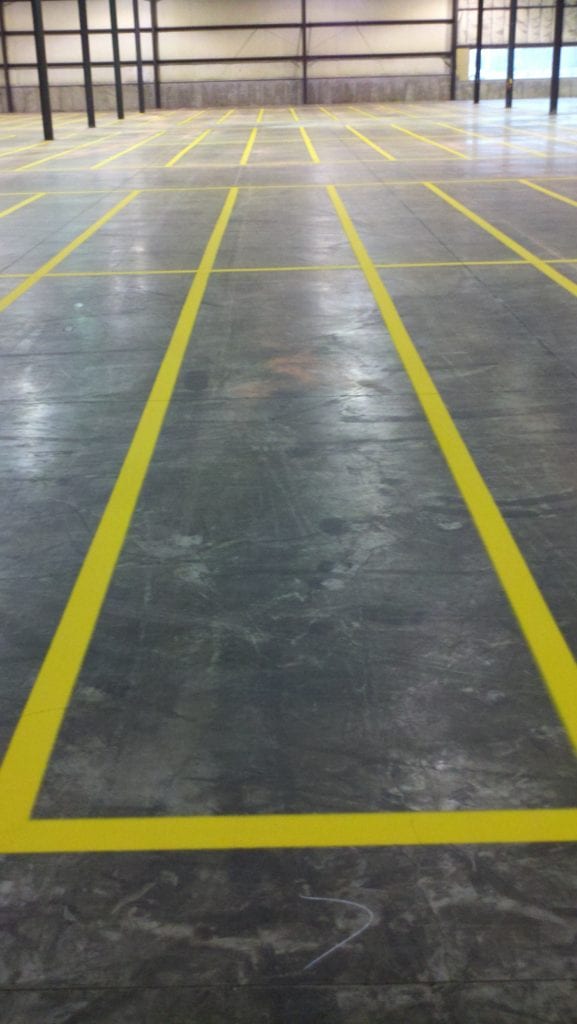 Warehouse Services
Pest management boundaries
Staging zones
Safety zones
Fire lanes
Bin numbers
Pallet bins
Pole markings
Railings
Steps
OSHA requirements
Forklift lanes
Pedestrian paths
Evacuation markings
Truck docks
Loading zones
---
Durable Warehouse Marking
The professionals at Advanced Pavement Marking will provide your warehouse with durable markings that can be relied upon around the clock. When it comes to active warehouses selecting the right marking material is actually second on the list. First is approach and techniques for prepping the surface to ensure coatings will have maximum adhesion to withstand a harsh environment. From etching to shot blasting our crews will analyze your warehouses' surface and select the necessary steps for installing durable markings.
---
Organization, efficiency and safety is crucial in commercial warehousing. Advanced Pavement Marking understands how important it is to utilize all available space while also focusing on safety and efficiency. APM has the experience in design, layout and marking installation in all areas and surfaces found in warehouse facilities.
---
Is your warehouse or distribution center safety markings OSHA compliant?
---
We have been the warehouse marking professionals with the experience in applying various paints, epoxy's and other coating materials in a wide range of warehouses and shipping centers since 2009.
APM crews are capable of working on tight to flexible schedules to ensure minimal disruption and congestion to your business.
Did you know most pavement marking or parking lot striping companies are not properly experienced, equipped or capable of installing long lasting/durable markings.
APM has trained warehouse marking professionals who have the experience, equipment and professional materials to install durable long lasting warehouse markings your facility deserves.
We service all of the United States.
Call 1-877-489-0530 for all your warehouse and safety markings needs